Leader of the Kailasa Nation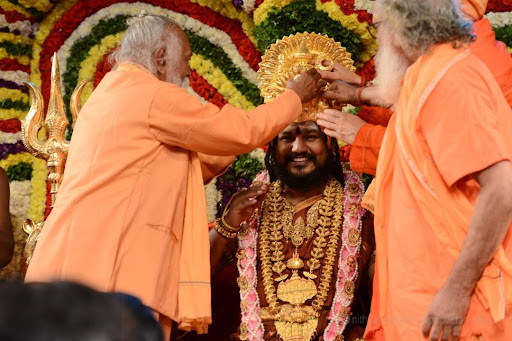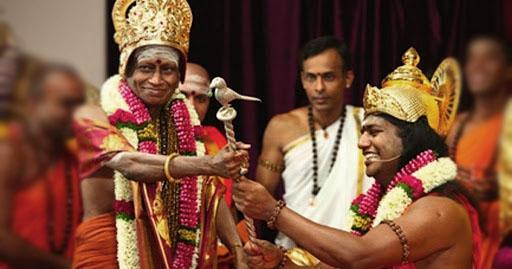 The Supreme Pontiff of Hinduism (SPH) Bhagavan Sri Nithyananda Paramashivam was born in Tiruvannamalai, a spiritual nerve center in South India, historic birthplace of a grand lineage of incarnations from the pre-historic times.
It has been the original Hindu foolproof tradition of identifying The Incarnation (of Paramasiva) through unique time-tested methods that were later followed by the Buddhist and Abrahamic religions as well.
The SPH at the age of 3 was recognised as the incarnation of Paramasiva by his predecessors – Mata Vibhutananda Puri, Yogi Ramsurat Kumar, Isakki Swamigal, Annamalai Swamigal, Yogiraj Yogananda Puri, Thinnai Swamigal, Kanchi Paramacharya, The 230th Guru Mahasannidhanam (Pontiff) of the Thondaimandala Aadheenam (one of the 13 Hindu kingdoms) and many more. At the age of 10, The SPH was ordained as the Guru of the Thondaimandala Aadheenam. At the age of 26, His Divine Holiness was declared as the State head of the Sūryavaṃśa (the illustrious Solar Dynasty that ruled the Hindu Kingdoms).
The SPH Bhagavan Sri Nithyananda Paramashivam who is recognised and declared as "The Incarnation of Paramasiva", as "Bhagavan" and bearing the title "Jñāna Vijñāna Cakravarti"  (Accepted by all the Hindu kings as the Emperor or Supreme Ruler) of the Pīthas (spiritual and spiritual Hindu Kingdoms) and the Sāmrājyas (spiritual, religious and political Hindu Kingdoms) is the coronated leader-in-exile of "Kailaasa", the only Hindu Nation, consisting of these clearly demarcated ancient, indigenous, aboriginal and religious, Hindu Kingdoms mentioned.
"Kailaasa" under the leadership of The SPH, is a Nation with its territory unlawfully grabbed, and functioning similar to the Tibetan Governmen, coping with its lost cultural, spiritual, religious, social, political, economical and legal legitimacy.